YouTube
Open YouTube
You need to be logged into the Trinity YouTube account
Top right of screen click Create > Go Live
Schedule a stream to go live at 9:55 am:
Click "Schedule Stream"

Click Reuse Settings
Update the details to be the current Sunday and any other details about the service
Change the thumbnail

In a new browser tab, go to this page Getting a YouTube Thumbnail right-click on the image with the correct date and click "Save As"
Back on YouTube, click "Change Thumbnail"
Choose the image you just downloaded

Click CREATE
This will allow anyone who is looking for the service early to find it before it has started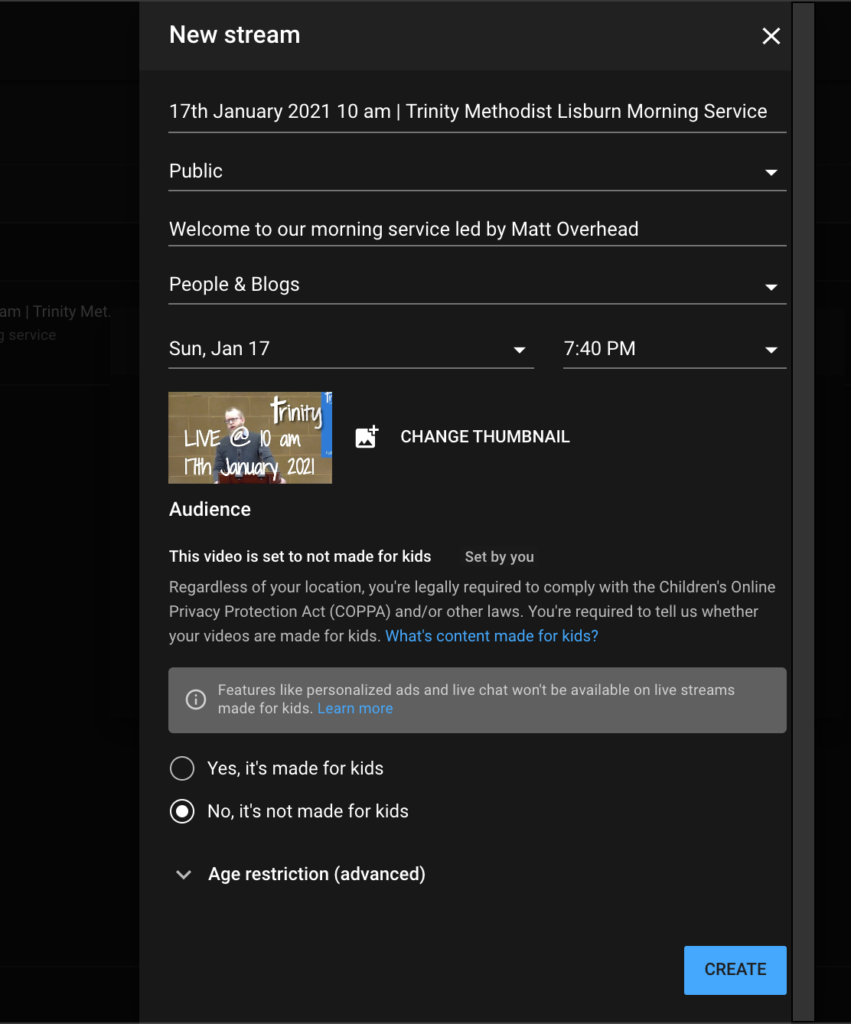 Click on the name of the stream to check the details
Click "Edit"
Make sure that the switches "Enable auto-start" and "Enable auto-stop" are selected. This means you have one less thing to think about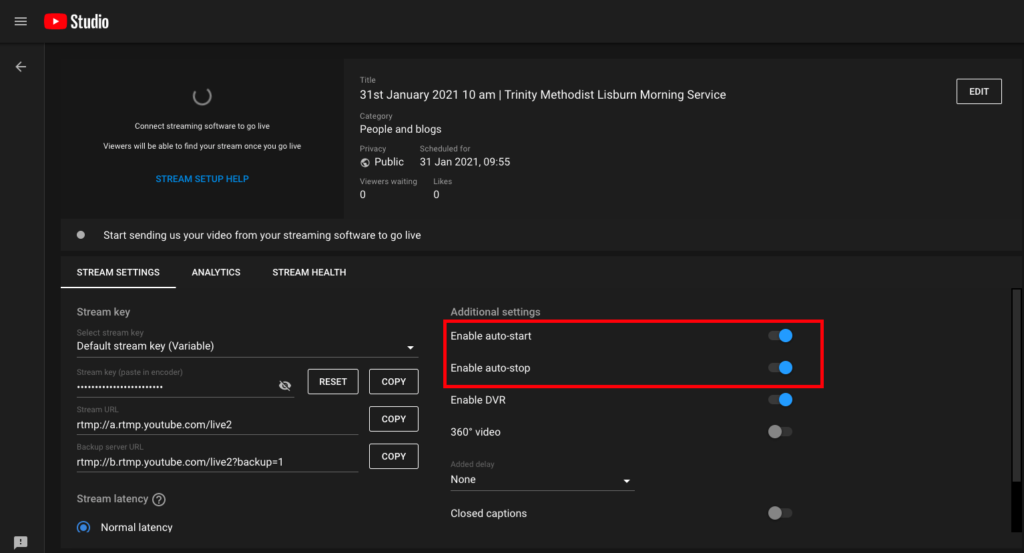 Schedule the website post
Log into the church website. You will have received a link to the login page.
At the left side of the screen, move your mouse over "Services"
Click "Add New"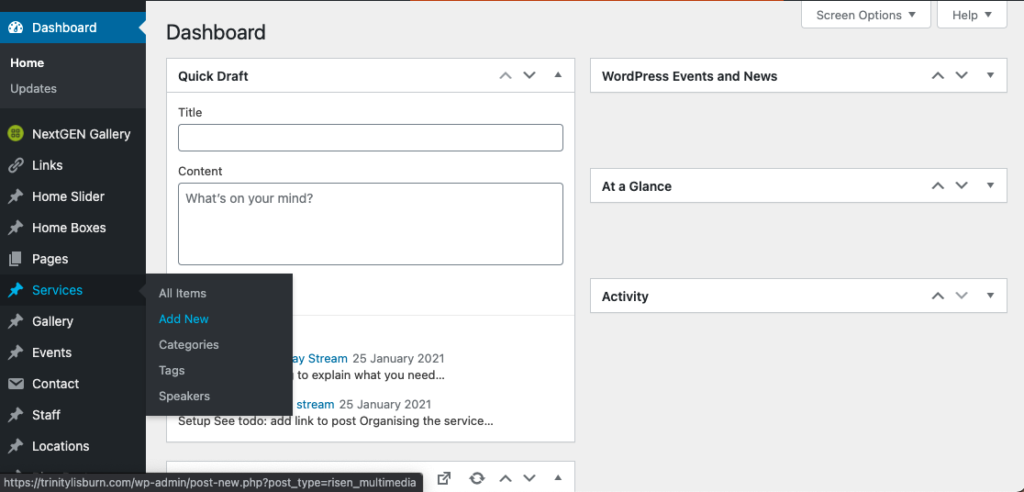 Give the title of the service, e.g "Sunday 31st January 2021". If it's a special service you can include the name in the title as well.
Add the speaker for the service:

At the right side of the screen, you will see "Service Speakers"
Check the names of the person who is giving the sermon.
If the person isn't in the list click "Add New" and type in their name.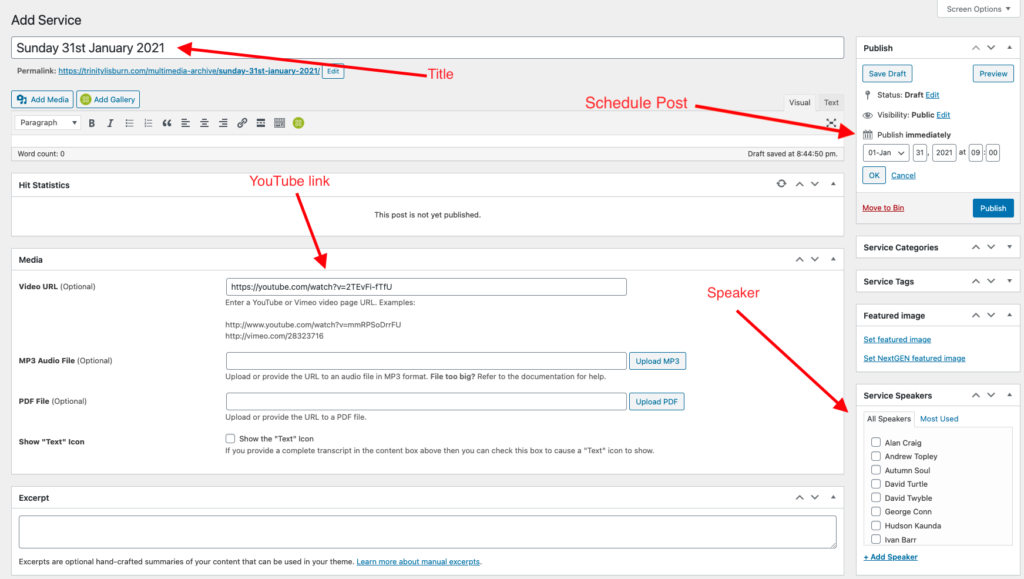 Add the YouTube link

Because you have scheduled the time of the stream, you will be able to find the link to the video.
Open YouTube.
Click "Your Videos" at the left of the screen
Click "Live"
Move your mouse over the scheduled stream from the last step
Then click on the 3 vertical dots
Click "Get sharable link"
Go back to the service post
Right-click on the box that says "Video URL (Optional)"
Paste
Schedule the post

At the top right of the screen in the "Publish" box, it says "Publish immediately".
Click the "edit" button beside that text.
Choose the date of the service.
Set the time to 09:00. That way it'll go out a bit early even if you haven't started the stream. It will make it easier for some people to find.
Click "OK"
Now press "Schedule"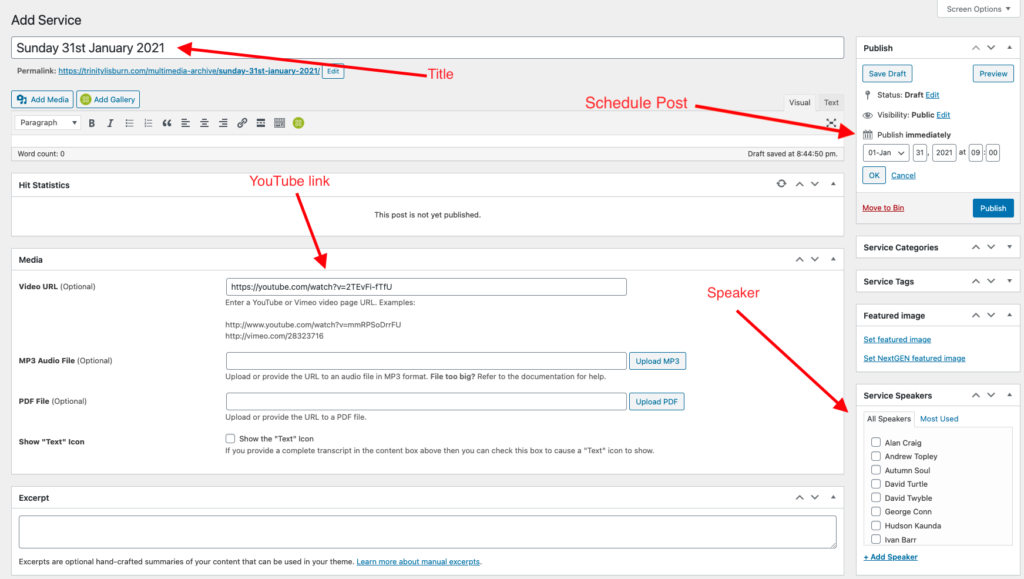 You are now ready for the service to go live.